12 Feb
Restructuring becomes essential at some stage in the lifecycle of any organization.  In order to emerge triumphant through this tumultuous challenge, it is necessary that the focus remains on the challenges impeding the organization, Strategy Development to tackle the challenges, and prioritizing Strategic Initiatives to deliver radical results that lead the organization to Operational Excellence.
Redeployment is the most significant phase in the Restructuring process. Within Redeployment, the Assessment phase is critical as the revitalization of the whole organization is dependent on correct Assessments and right placement of employees based on those Assessments.
Proper Redeployment Assessment Management is of utmost importance in Restructuring, and it should follow a structured approach, which means managing 5 core areas:
Manage Assessment Team
Manage Anxiety Level of Candidates
Manage Amount of "Deviant Behavior" in the Assessments
Manage Level of Duplicity, Wild Guessing, and Other Forms of Distortion
Manage Amount of Feedback and Its Timing after the Event
Managing 5 core areas ensures smooth implementation of the Redeployment Assessment process, which is a major milestone of the Restructuring project.
The Redeployment Assessment process has to be detailed, accurate, and prompt. Due Diligence in documenting the process, verifying particulars, and balance between Rapidity and Accurateness is essential because:
Organizational requirement to concentrate on post-restructuring environment is intense.
Employees' urge to swiftly find out about their future is deep-seated.
Objections by employee stakeholders, as a consequence of large-scale retrenchment is high.
Probability of legal recourse by employees is also distinct.
Future Employee Engagement is dependent on fair Assessment and correct placements.
Assessments are based on Data Integration which involves a complex set of Data Points. Therefore, Data Integration has to follow a strict process for it to be productive. Following guiding principles will help in comprehensive and unbiased Data Integration:
Behavioral evidence, gathered throughout the assessment, should form the basis of discussion.
Weightage given to certain competencies should be based on the evidence gathered in assessments.
Decisions should be derived solely on the basis of evidence.
Facilitator, who is experienced in integrating assessment data and challenging assessors to support their assessment ratings with behavioral evidence, should be engaged.
Standards of performance should be very clearly defined against which individuals are assessed and assessment information is integrated.
To increase consistency, the chair of integration should present at each assessment session.
Grounded on these guiding principles, strict adherence to the following 8 Key Steps can steer the Data Integration phase in the right direction and make it productive:
List all measures
Weight all measures
Identify minimum qualifications
Create an overall score
Quality and reality check
Enter real data
Review results
Pool the candidates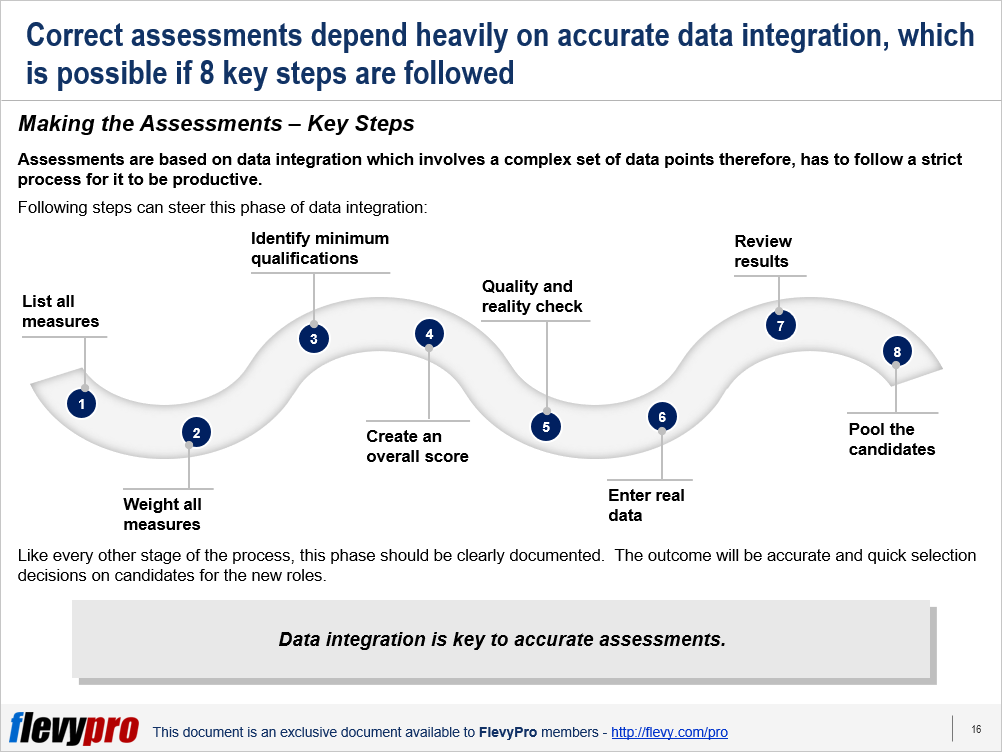 Let us look at the first 3 steps in further depth.
1. List all measures
This list includes both qualitative and quantitative aspects, i.e., job performance data as well as the performance measures.
2. Weight all measures
Relevant weightage should be assigned to each measure. Job performance measures normally have more weightage than the potential measures.
3. Identify minimum qualifications
It is important to build checks into the system for anomalies, such as someone scoring overall high while failing to meet the essential criteria. For such eventualities a minimum qualification criterion has to be set.
Interested in learning more about the 8 key steps for Data Integration during Redeployment Assessment Management? You can download an editable PowerPoint on Restructuring: Redeployment Assessment Management here on the Flevy documents marketplace.
Do You Find Value in This Framework?
You can download in-depth presentations on this and hundreds of similar business frameworks from the FlevyPro Library. FlevyPro is trusted and utilized by 1000s of management consultants and corporate executives. Here's what some have to say:
"My FlevyPro subscription provides me with the most popular frameworks and decks in demand in today's market. They not only augment my existing consulting and coaching offerings and delivery, but also keep me abreast of the latest trends, inspire new products and service offerings for my practice, and educate me in a fraction of the time and money of other solutions. I strongly recommend FlevyPro to any consultant serious about success."

– Bill Branson, Founder at Strategic Business Architects
"As a niche strategic consulting firm, Flevy and FlevyPro frameworks and documents are an on-going reference to help us structure our findings and recommendations to our clients as well as improve their clarity, strength, and visual power. For us, it is an invaluable resource to increase our impact and value."

– David Coloma, Consulting Area Manager at Cynertia Consulting
"FlevyPro has been a brilliant resource for me, as an independent growth consultant, to access a vast knowledge bank of presentations to support my work with clients. In terms of RoI, the value I received from the very first presentation I downloaded paid for my subscription many times over! The quality of the decks available allows me to punch way above my weight – it's like having the resources of a Big 4 consultancy at your fingertips at a microscopic fraction of the overhead."

– Roderick Cameron, Founding Partner at SGFE Ltd