17 Jun
Mergers and Acquisitions enable numerous opportunities for growth. Organizations pursue these initiatives for a number of reasons—e.g. to expand further, attract more clients, or to broaden their product / service offerings. Scores of M&A transactions materialize across the globe each year, but not all of them achieve the synergies such deals promise. As a matter of fact, the success ratio is just around 27%.
The M&A Growth Framework is a structured approach to enhance the odds of a successful M&A transaction. This approach is instrumental in helping organizations capitalize on growth opportunities locked in M&A deals. The framework comprises 10 phases scattered across 3 timeframes:
Pre-deal Preparation
First 100 Days
Post-deal Closure
The 10 phases of the M&A Growth Framework organized under the 3 timeframes include: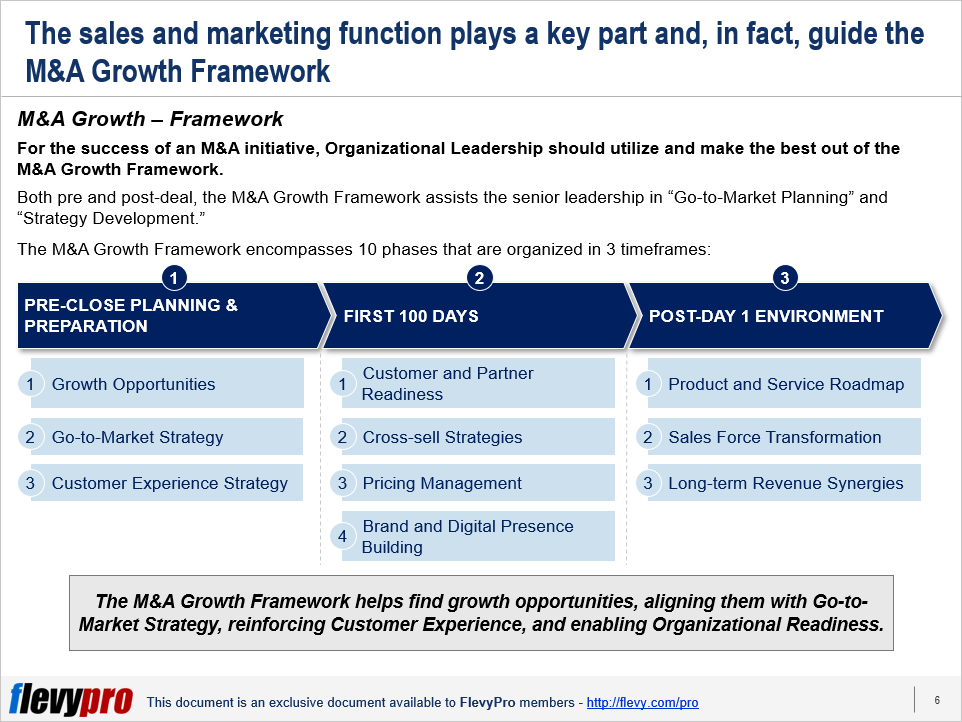 The M&A Growth Framework facilitates in finding growth opportunities, aligning them with Go-to-Market Strategy, reinforcing Customer Experience, and enabling Organizational Readiness for integration after the M&A.
Let's dive deeper into the first 3 phases of the M&A Growth Framework for now.
Growth Opportunities
The first step in achieving growth from a Merger or Acquisition deal is to identify and analyze the opportunities essential for growth.
Identification of growth opportunities necessitates:
Gauging the ability of the new company to enter target markets.
Conducting one-to-one interviews and Focus Group Discussions with key people from the management and customers to develop points of reference for existing key competencies.
Identifying and translating growth opportunities into initiatives.
Quantifying growth with timeline requirements.
Prioritizing opportunities based on their magnitude, viability, and potential for effective execution.
Utilizing clean teams to ensure confidentiality of data.
Go-to-Market Strategy
Identification and prioritization of growth opportunities necessitates delineating the Go-to-Market Strategy of the combined entity. This phase assists in achieving the newly-formed company's stated growth targets, business continuity objectives, and proficient utilization of unified team and resources.
Key steps involved in this phase include:
Combining the acquired entity's product/service portfolio with the buyer's offerings.
Ascertaining and prioritizing strategic inputs.
Translating the information and inputs available into prioritized action items.
Segmenting the customers and their needs.
Creating Go-to-Market plans.
Connecting the sales channels with the unified company's product mix.
Ensuring resource readiness, sales targets, coverage, and channel mix.
Finalizing marketing plans: communication, branding, targeting, product mix.
Customer Experience Strategy
As part of integrating the 2 unified companies, it is critical for the senior leadership to develop and deploy a Customer Experience (CE) Strategy. A consistent Customer Experience derives more value from existing customers, aids in the continuation of operations, and boosts customer spending.
Key steps in this phase entail:
Appraising the existing customer experience, interactions, and customer pain points.
Developing a customer-focused organization by creating seamless CE "personas" and customer journey maps.
Identifying and ranking CE improvement initiatives.
Implementing CE enhancement initiatives, monitoring outcomes, and correcting the course.
Integrating the customers and Customer Experiences of the acquirer and the target companies.
Interested in learning more about the other phases of the M&A Growth Framework ? You can download an editable PowerPoint on M&A Growth Frameworkhere on the Flevy documents marketplace.
Do You Find Value in This Framework?
You can download in-depth presentations on this and hundreds of similar business frameworks from the FlevyPro Library. FlevyPro is trusted and utilized by 1000s of management consultants and corporate executives. Here's what some have to say:
"My FlevyPro subscription provides me with the most popular frameworks and decks in demand in today's market. They not only augment my existing consulting and coaching offerings and delivery, but also keep me abreast of the latest trends, inspire new products and service offerings for my practice, and educate me in a fraction of the time and money of other solutions. I strongly recommend FlevyPro to any consultant serious about success."
– Bill Branson, Founder at Strategic Business Architects
"As a niche strategic consulting firm, Flevy and FlevyPro frameworks and documents are an on-going reference to help us structure our findings and recommendations to our clients as well as improve their clarity, strength, and visual power. For us, it is an invaluable resource to increase our impact and value."
– David Coloma, Consulting Area Manager at Cynertia Consulting
"FlevyPro has been a brilliant resource for me, as an independent growth consultant, to access a vast knowledge bank of presentations to support my work with clients. In terms of RoI, the value I received from the very first presentation I downloaded paid for my subscription many times over! The quality of the decks available allows me to punch way above my weight – it's like having the resources of a Big 4 consultancy at your fingertips at a microscopic fraction of the overhead."
– Roderick Cameron, Founding Partner at SGFE Ltd