9 Oct
Evaluation and onboarding of outstanding leaders is anything but straightforward. Almost all organizations have set up testing mechanisms or assessment centers to distinguish senior leadership candidates having traits that make up for Exceptional Leaders. These assessment centers shortlist leaders based on certain indicators and criteria.
However, these assessments are not always accurate in predicting the best leaders. At times, the entire evaluation exercise results in drafting mediocre leaders and fails to select top influencers and role models for the organization. The traditional methods of gauging senior leaders prove inadequate based, typically, on 3 common flaws:
Granularity – Gauging the candidates for leadership positions using the profiles of successful leaders from the past. Those profiles are not meaningful considering the pace of change today and the future needs of the organization.
Long-term Focus – Assessment of candidates based on the traits required to reap the fruits of Business Strategy in 5 years' time is another ground for not identifying the right leaders.
Emphasis on finding typical leadership traits – Instead of looking for traits that separate exceptional leaders from the pack, most assessments are geared towards finding typical leadership traits.
Research by PwC—spanning over a period of 10 years with a sample size of 2500 senior executives, who remained a part of C-suite successions in large organizations—reveals that the common flaws in leadership assessment methods can be confronted methodically. To find the best C-level executives, leadership evaluations should focus on identifying candidates possessing the following 4 key traits that are typical only of the top C-level executives:
Simplification & Operationalization of Complexity
Drive Enterprise-wide Ambition & Change
Strong Teamwork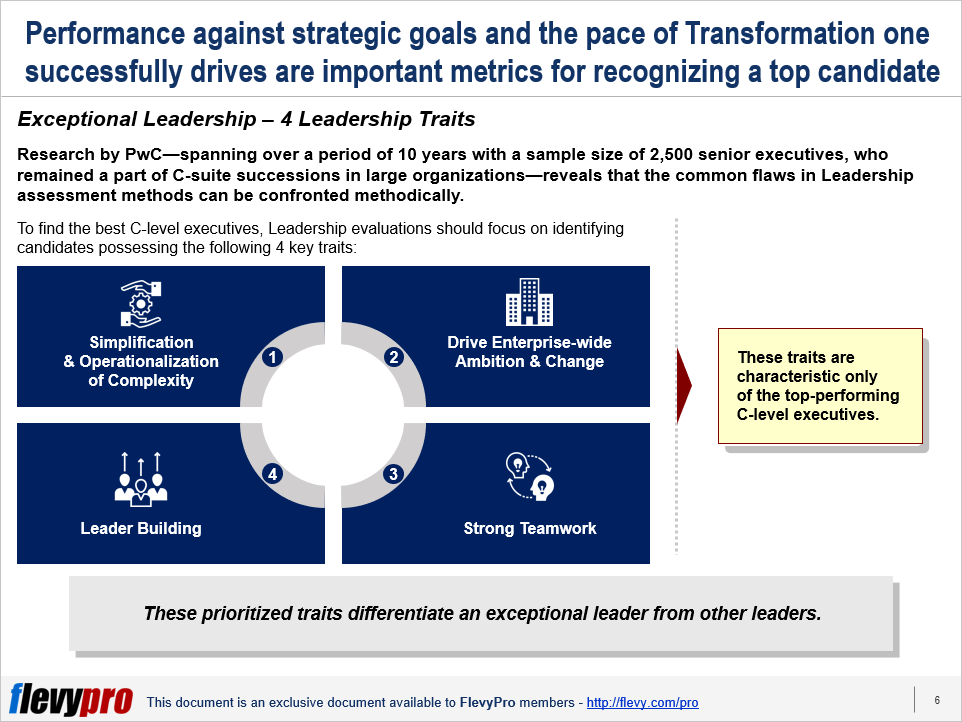 Let's dive deeper into these traits.
Simplification & Operationalization of Complexity
In today's world of disruption, organizations face new challenges on a day-to-day basis. Exceptional leaders have the ability to process tremendous volumes of information and simplify things fairly easily. Leaders who truly standout are well-versed in tackling confusion and learn promptly. They are great at:
Interpreting complexities and creating simplified operational descriptions around them for others' understanding.
Developing visions to influence people and rally them around the shared objectives.
Developing & implementing actionable plans to achieve objectives.
Developing functional and dynamic storylines encompassing the agenda that demonstrates how the company will execute its strategy. These storylines consistently remind the people to concentrate on the things that matter most to the company (e.g. customers, products).
Creating and disseminating robust communication plans—highlighting how their company is best suited to face the challenges of disruption—that are consistently analyzed and improved upon.
Drive Enterprise-wide Ambition & Change
People in an organization often operate in groups. These groups consider people outside their circle as competitors or "outsiders." This tribal mentality is detrimental for an organization and inculcates individual thinking—focusing only on personal / group targets—and debilitates the ability to operate outside one's comfort zone. Exceptional leaders have the skills to:
Make people come out of this tribal or siloed mentality and think collectively in terms of realizing organizational objectives.
Understand different mindsets and know how to influence them constructively.
Make people realize their contribution towards the bigger, organizational perspective and work towards achieving their business unit targets rather than personal performance objectives.
Strong Teamwork
Nobody can undermine or deny the importance of teamwork. Much has been written on the subject. However, in reality, most teams do not quite understand the spirit and commitment fundamental to develop teamwork.
Exceptional leaders:
Are aware of the importance of teamwork and collective leadership. They consistently challenge their people to ponder over ways to achieve not only personal but also the strategic organizational objectives.
Work with teams to uncover prioritized initiatives critical for organizational growth.
Lead their teams and make informed strategic decisions.
Focus more on the strategic planning front than tactical way before they reach the C level.
Emphasize to the teams the significance of spending time discussing / developing strategy and devising plans.
Focus on maximizing the effectiveness of each individual to benefit the organization.
Interested in learning more about the traits of outstanding leaders? You can download an editable PowerPoint on Exceptional Leadership here on the Flevy documents marketplace.
Do You Find Value in This Framework?
You can download in-depth presentations on this and hundreds of similar business frameworks from the FlevyPro Library. FlevyPro is trusted and utilized by 1000s of management consultants and corporate executives. Here's what some have to say:
"My FlevyPro subscription provides me with the most popular frameworks and decks in demand in today's market. They not only augment my existing consulting and coaching offerings and delivery, but also keep me abreast of the latest trends, inspire new products and service offerings for my practice, and educate me in a fraction of the time and money of other solutions. I strongly recommend FlevyPro to any consultant serious about success."

– Bill Branson, Founder at Strategic Business Architects
"As a niche strategic consulting firm, Flevy and FlevyPro frameworks and documents are an on-going reference to help us structure our findings and recommendations to our clients as well as improve their clarity, strength, and visual power. For us, it is an invaluable resource to increase our impact and value."

– David Coloma, Consulting Area Manager at Cynertia Consulting
"FlevyPro has been a brilliant resource for me, as an independent growth consultant, to access a vast knowledge bank of presentations to support my work with clients. In terms of RoI, the value I received from the very first presentation I downloaded paid for my subscription many times over! The quality of the decks available allows me to punch way above my weight – it's like having the resources of a Big 4 consultancy at your fingertips at a microscopic fraction of the overhead."

– Roderick Cameron, Founding Partner at SGFE Ltd