1 Feb
Mature markets, where the customer base begins to stagnate, call for structured Organic Growth founded on a superior Customer Value Proposition (CVP). CVP encompasses all that is gained by customers for the money they pay—material as well as intangible. Customer Value can be articulated by the equation:

Customer Value = 
(Product Performance + Service Delivered + Image)/Price Paid
CVP endeavors can be lacking due to many reasons such as use of incorrect Research Method, misapplication of a correct statistical method, incorrect interpretation of research outcomes in the background of current brand position, market situations, or capabilities system of the company.
Crafting an effective CVP requires insight and experience, but the probabilities of realization escalate by applying a structured process. Organizations that defy odds and repeatedly thrive with many new-product unveilings lean towards applying a disciplined approach to developing their CVP. The approach that these organizations follow comprises of 3 distinct practices, blending creative inventiveness and analysis. The 3 Pillars of Product Launch Strategy are:
Market-backed Analysis
Darwinian Competitive Review
Capabilities-Forward Assessment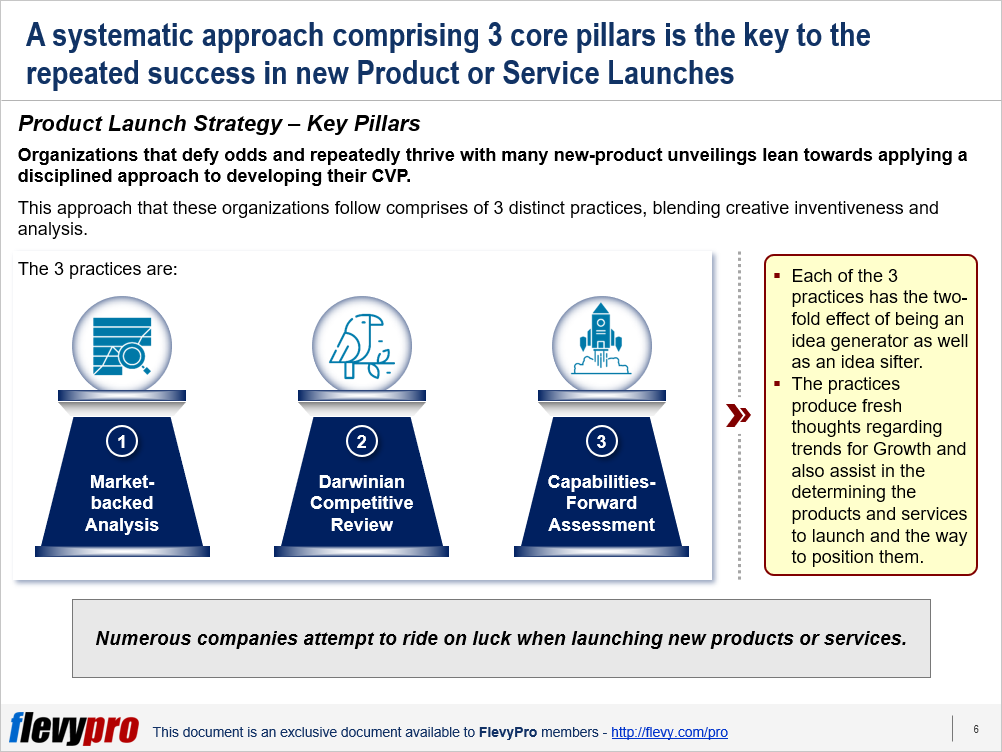 Each of the 3 practices has the two-fold effect of being an idea generator as well as an idea sifter.
The practices produce fresh thoughts regarding trends for growth and also assist in determining the products and services to launch and the way to position them.
Let us go a little further into details of each pillar.
Market-Backed Analysis
Market Research merely queries consumers regarding their attitudes, inclinations, and aversions. Real focus of such research should be on comprehending behavior; such as the trade-offs consumers make when deliberating a purchase. Market-Backed Analysis is a method of collecting consumer insights that isolates the value imputed by consumers to various components of a product or service, and generates practical information as a consequence.
Darwinian Competitive Review (DCR)
Executives are always on the lookout for new product and service innovations that can distinguish their companies. New ideas are always more exciting than an innovation that the industry has already introduced. Darwinian Competitive Review suggests that even a new idea must follow some demonstrated Value Proposition—i.e., proven success somewhere else. DCR calls for scrutiny of those Customer Value Propositions that have exhibited success across several markets, and of competitors who have already instituted themselves in those markets.
Capabilities-Forward Assessment
Capabilities-Forward Assessment is a thorough evaluation of what the company already does skillfully, and which novel Value Propositions its Capabilities System will be able to sustain. Possessing the correct Distinctive Capabilities that are aligned can be the difference between being common place and being great. An example of the above would be the difference between offering a product at low cost and at the lowest cost.
Interested in learning more about the 3 Pillars of Product Launch Strategy? You can download an editable PowerPoint on 3 Pillars of Product Launch Strategy here on the Flevy documents marketplace.
Do You Find Value in This Framework?
You can download in-depth presentations on this and hundreds of similar business frameworks from the FlevyPro Library. FlevyPro is trusted and utilized by 1000s of management consultants and corporate executives. Here's what some have to say:
"My FlevyPro subscription provides me with the most popular frameworks and decks in demand in today's market. They not only augment my existing consulting and coaching offerings and delivery, but also keep me abreast of the latest trends, inspire new products and service offerings for my practice, and educate me in a fraction of the time and money of other solutions. I strongly recommend FlevyPro to any consultant serious about success."

– Bill Branson, Founder at Strategic Business Architects
"As a niche strategic consulting firm, Flevy and FlevyPro frameworks and documents are an on-going reference to help us structure our findings and recommendations to our clients as well as improve their clarity, strength, and visual power. For us, it is an invaluable resource to increase our impact and value."

– David Coloma, Consulting Area Manager at Cynertia Consulting
"FlevyPro has been a brilliant resource for me, as an independent growth consultant, to access a vast knowledge bank of presentations to support my work with clients. In terms of RoI, the value I received from the very first presentation I downloaded paid for my subscription many times over! The quality of the decks available allows me to punch way above my weight – it's like having the resources of a Big 4 consultancy at your fingertips at a microscopic fraction of the overhead."

– Roderick Cameron, Founding Partner at SGFE Ltd