21 Nov
The single most pressing challenge for an organization in this knowledge economy is attracting and retaining talented people. This can be a make or break challenge for the organization and warrants careful consideration during Strategic Planning.
Starting on the right foot is absolutely essential to overcoming this challenge. Organizations, particularly HR, need to have an Organizational Culture that boasts of an effective Employee Onboarding process. In order to accomplish this, present-day HR needs to be clear regarding the challenges of modern-day Onboarding and develop a strategy to establish an onboarding process that yields a rewarding experience for the employees.
At many organizations the Employee Onboarding process follows a customary theme—a run down on "how things are done here"—with the traditional HR view that if the employee can be made to commit to the Organizational Culture from the get-go, they are easier to retain.
Such an Onboarding process does not help the new employee adjust to the company or the role, become an Engaged Employee, and meet the expectations of the organization. Experts have identified various challenges with this conventional Onboarding approach. Here is a list of 8 most frequent challenges:
Poor Socialization of Organizational Values
Lack of Role Clarity
Challenges with Expectations and Results
Managing Change
Issues with Time Management
Issues with the Manager
Navigating the Culture
Handling Personal Transition and Relocation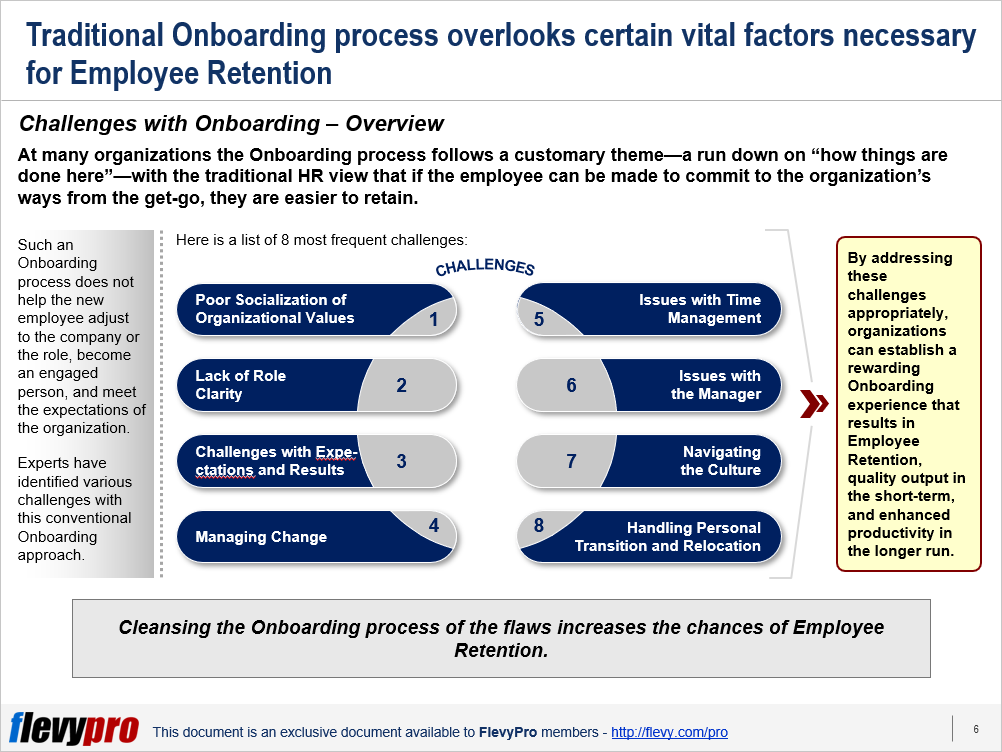 By addressing these challenges appropriately, organizations can establish a rewarding Employee Onboarding experience that results in Employee Retention, quality output in the short-term, and enhanced productivity in the longer run.
Let us delve a little deeper into the challenges.
1. Poor Socialization of Organizational Values
It is presumed that Organizational Values are a thing to be imparted and accepted by the new employee. This is, indeed, essential knowledge, but it is not sacrosanct. Studies suggest acceptance of organizational values in contravention of one's own identity may be counter-productive in that it may exhaust the employee psychologically, restrict full engagement, hinder creativity, and create work dissatisfaction. This can be overcome by allowing employee to express their unique perspective on the job from the beginning and welcoming them to incorporate what they do best in their work.
2. Lack of Role Clarity
Lack of clear understanding of one's role is a widespread problem in organizations. After spending some time in the new organization, the employee realizes that the expectation of the role is conflicting with what the employee thought he/she accepted. Encouraging the new employee to identify the gaps in the expectation / perception and discussing it with their managers enables the employees to have a clear perspective and understanding of their roles and responsibilities, enhances employee satisfaction levels, and improves their efficiency and productivity.
3. Challenges with Expectations and Results
New employees are often unable to realize their workload. In order to meet the perceived expectation of managers or peers, they take on too much of work resulting in overload, which diminishes their performance. Informal discussions of new employees with managers and peers regarding their expectations eases the pressure and enables them to take on what is manageable and deliver quality results.
Interested in learning more about various aspects of Employee Onboarding, guiding principles, challenges, and approaches? You can download an editable PowerPoint on Employee Onboarding here on the Flevy documents marketplace.
Are you a Management Consultant?
You can download this and hundreds of other consulting frameworks and consulting training guides from the FlevyPro library.