26 Aug
Cost-based Pricing is fast becoming a relic of the past and being substituted by the concept of Target Costing. Target Costing is referred to as an organized process to determine the cost at which a proposed product must be developed so as to generate profits at the product's anticipated selling price in future.
In highly competitive markets such as FMCG, construction, healthcare, and energy, prices are determined by market forces. Producers cannot effectively control selling prices. The only control, to some extent, is over costs, so management's focus has to be on influencing every component of product, service, or operational costs.
Target Costing is a proactive Cost Planning, Cost Management, and Cost Reduction practice. Costs are planned and managed out of a product and business early in product life-cycle, rather than during the later stages. The fundamental objective of Target Costing is to make the business profitable in any competitive marketplace. Target Costing is widely used in several industries e.g. manufacturing, energy, healthcare, construction, and a host of others.
Some key features of Target Costing are:
Seller is a price taker rather than a price maker.
The target selling price incorporates desired profit margin.
Product design, specifications, and customer expectations are built-in while formulating the total selling price.
Cost reduction and effective cost management is the corner stone of management strategy.
Target Cost has to be achieved through team collaboration during activities such as designing, purchasing, manufacturing, marketing, and other activities.
Target Costing presents the following advantages over other product pricing techniques:
More value delivered to customer since the product is created keeping in mind the expectation of the customer.
Approach to designing and manufacturing products is market driven.
Competitive Advantage gained through process improvement and product innovation.
Drastic Process Improvement, which creates economies of scale.
New market opportunities converted into real savings to achieve the best value for money rather than to simply realize the lowest cost.
The Target Costing process comprises 3 main phases.
Market-Driven Target Costing
Product-Level Target Costing
Component-Level Target Costing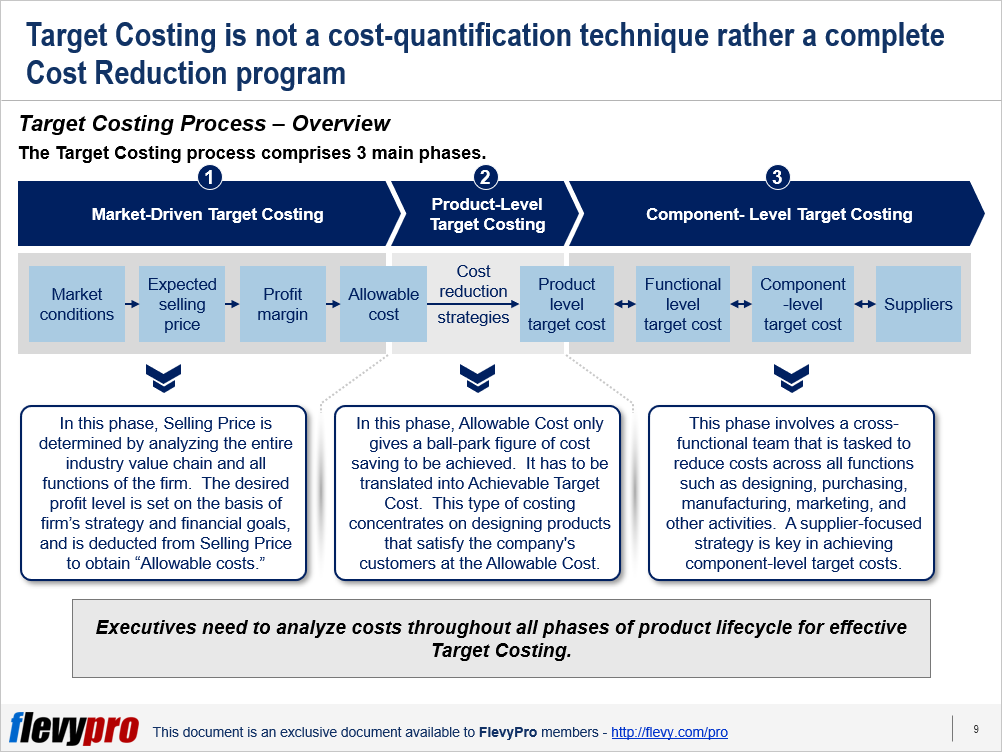 Let's discuss the 3 phases briefly.
1. Market-Driven Target Costing
In this phase, Selling Price is determined by analyzing the entire industry value chain and all functions of the firm. The focus of this costing phase is on analyzing market conditions and determining the company's Profit Margin in order to identify the "Allowable Cost" of a product.
In this phase, the desired profit level is set on the basis of firm's strategy and financial goals, and is deducted from Selling Price to obtain Allowable costs. Intensity of competition, nature of customers, similar product introduction by competitors, and level of customer sophistication are the key factors influencing Market-driven Target Costing.
2. Product-Level Target Costing
In this phase, Allowable Cost only gives a ball-park figure of cost saving to be achieved. It has to be translated into Achievable Target Cost. This type of costing concentrates on designing products that satisfy the company's customers at the Allowable Cost. The cardinal rule of Product-level Target Costing is to never exceed the Target Cost.
The objective of this Target Costing phase is to create intense but realistic pressure on the product designers to reduce costs. Product Strategy (number of products in the line, frequency of redesign, degree of innovation) and product characteristics (complexity, magnitude of up-front investments, and duration of product development) are the key factors affecting Product-level Target Costing.
3. Component- Level Target Costing
The Component-level Target Costing settles the price at which a firm is willing to purchase the externally-acquired components being used in its product. This phase involves a cross-functional team that is tasked to reduce costs across all functions such as designing, purchasing, manufacturing, marketing, and other activities.
The components cost history serves as the starting point for estimating the new component-level target costs alongside optimal selection of suppliers. A supplier-focused strategy is the key factor that influences Component-level Target Costing.
Interested in learning more about how the Target Costing process works and its key steps? You can download an editable PowerPoint on Target Costing here on the Flevy documents marketplace.
Are you a Management Consultant?
You can download this and hundreds of other consulting frameworks and consulting training guides from the FlevyPro library.