27 Mar
Inculcating productive workforce behaviors is of utmost significance in Business Transformation, successful Strategy Execution, and Performance Improvement. However, making people embrace productive behaviors involves a concerted effort across the organization.
The realization of Transformation, Strategy, and Performance improvement goals can become a reality by developing a thorough understanding of the 4 components of Organizational Behavior. These components act as powerful levers in shaping the desired behaviors in the workforce:
Organizational Structure
Roles and Responsibilities
Individual Talent
Organizational Enablers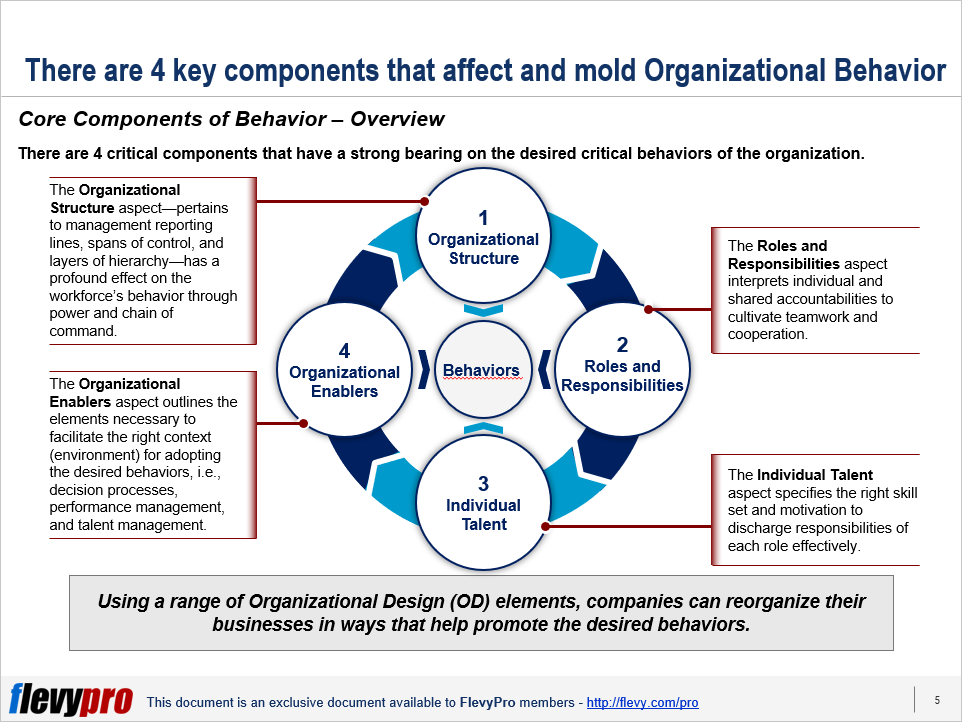 These Organizational Design levers work effectively when combined and aligned. Let's discuss the first 2 levers in detail now.
Organizational Structure
Organizational Structure represents the management reporting lines that create the organization's spans of control, layers, and number of resources. Organizational Structure is a foundational driver to Organizational Design, which also has a strong positive bearing on promoting the behaviors critical to improve the overall performance of the enterprise. This is owing to the power that a position exerts on the subordinates based on factors that are important for individuals—e.g., work, compensation, and career ladder.
The Organizational Structure indicates an enterprise's priorities. An organization is typically structured in accordance with its top most priority. For instance, functional organizational structure is adopted by enterprises having functional excellence as a priority. In present-day's competitive markets, most organizations have to deal with several priorities at a given time, which could be conflicting. However, this does not mean adding new structures on top of existing ones, thereby increasing unnecessary complexity. Creating overly complex structures to manage multiple priorities results in red tape and delayed decisions. All roles are interdependent, necessitating cooperation. This means taking care of the needs of others—instead of just watching over personal priorities—and encouraging individual behaviors that boost the efficiency of groups to achieve collective objectives.
Roles & Responsibilities
Roles and responsibilities deal with tasks allocated to each position and individual. Organizational Design depends heavily on redefining clearer and compelling roles and responsibilities—to avoid any duplication of efforts or creating adversaries among team members. In a collaborative culture where cooperation is the mainstay of an organization, individuals should not only be aware of what is required of them, but also appreciate the responsibilities of their team members, the authorities their roles exercise, the skills required, and the metrics to measure success.
A methodical way to outline roles and responsibilities effectively—while minimizing complexity—that encourages cooperation and empowerment is through the "Role Chartering" technique. The technique requires distinctly identifying all roles on the basis of 6 key factors:
Describing shared and individual accountabilities
Outlining indicators to track success
Specifying who has the right to decide what
Indicating the capabilities critical for roles
Assigning the leadership traits valuable for the roles
Charting the abilities required for accomplishing personal and team goals.
Interested in learning more about these components to Organizational Behavior? You can download an editable PowerPoint on Organizational Behaviors here on the Flevy documents marketplace.
Are you a Management Consultant?
You can download this and hundreds of other consulting frameworks and consulting training guides from the FlevyPro library.